Principal Investigator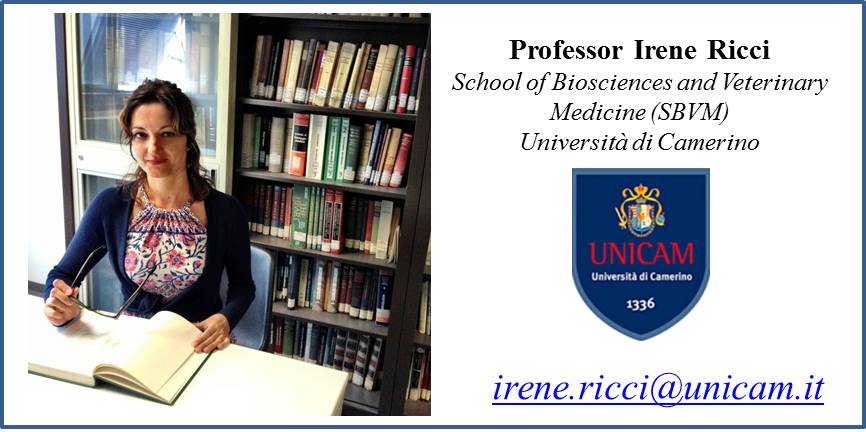 IRENE RICCI si è laureata con lode in Scienze Biologiche presso l'Università di Roma "Tor Vergata" nel 1995 con una tesi in Fisiologia Cellulare sul neuroblastoma.
Ha successivamente conseguito il titolo di Dottore di Ricerca in Scienze di Sanità Pubblica presso l'Università di Roma "La Sapienza" con una tesi in Parassitologia Molecolare sui vettori di malaria (2002).
Da diversi anni afferisce al Network Italiano sulla Malaria (http://www.italianmalarianetwork.it/university-of-camerino/) ed è membro della Società Italiana di Parassitologia (http://www.soipa.it/).
Durante il suo percorso scientifico ha approfondito diversi ambiti della Parassitologia Umana e Veterinaria in collaborazione con gruppi leader del settore in Italia e all'estero.
Da alcuni anni si occupa dello studio delle simbiosi in insetti nocivi finalizzato al controllo delle malattie da essi trasmesse, con particolare riferimento a zanzare di interesse medico e veterinario, presso l'Unità di Parassitologia Molecolare e Entomologia Sanitaria dell'Università di Camerino (UNICAM)  (http://darwin.unicam.it/topics/favia.htm).
Dal 2012 al 2015 è stata Ricercatrice a Tempo Determinato in UNICAM presso la SBVM, dove a partire dal 2012 è Responsabile Scientifico (Principal Investigator) del progetto SymbioVec che studia la relazione simbiotica tra lieviti e zanzare vettrici di malaria, ricerca finanziata dalla Comunità Europea per 1.5 milioni di euro.
Grazie alle sue attività di ricerca sulle simbiosi, nel 2013 è stata inclusa in 'AcademiaNet', la prestigiosa banca dati che riunisce le migliori ricercatrici in Europa (www.academia-net.org). Inoltre svolge attività di referee ed edithor per diversi giornali scientifici.
Dal 2015 è Professore Associato in Parassitologia presso la SBVM.
La sua produzione scientifica comprende numerose pubblicazioni su riviste internazionali (www.scopus), comunicazioni a congressi, capitoli di libri e brevetti.
______________________________________________________________________________________________
IRENE RICCI graduated cum laude in Biological Sciences at the University of Rome "Tor Vergata" in 1995 with a degree in Cellular Physiology on neuroblastoma.
She was later awarded by the title of Doctor of Philosophy in Public Health Sciences at the University of Rome "La Sapienza" with a thesis in Molecular Parasitology on malaria vectors (2002).
For several years she pertains to the Italian Network on Malaria (http://www.italianmalarianetwork.it/university-of-camerino/) and is a member of the Italian Society of Parasitology (http://www.soipa.it/).
During her scientific career she has investigated in various areas of Human and Veterinary Parasitology in collaboration with leading groups in Italy and abroad.
For several years she deals with the study of symbiosis in arthropod vectors, with particular reference to mosquitoes of medical and veterinary interest, at the Molecular Parasitology Unit and Health Entomology, University of Camerino (UNICAM) (http://darwin.unicam.it/topics/favia.htm).
From 2012 to 2015 she was a researcher at the SBVM in Camerino, where from 2012 she is Scientific Director (Principal Investigator) of SymbioVec project studying the symbiotic relationship between yeast and vector species mosquitoes of malaria, research funded by the European Community for 1.5 million euro.
Thanks to her research on symbiosis, in 2013 she has been included in 'AcademiaNet', the prestigious database that brings together the best researchers in Europe (www.academia-net.org).
Also she plays as referee and editor for several scientific journals.
Since 2015 is Associate Professor of Parasitology at the SBVM.
Her scientific production is constantly increasing and includes publications in international journals (www.scopus), communications at conferences, book chapters and patents.